A Great Adventure to Peucang Island, Pandeglang Regency
---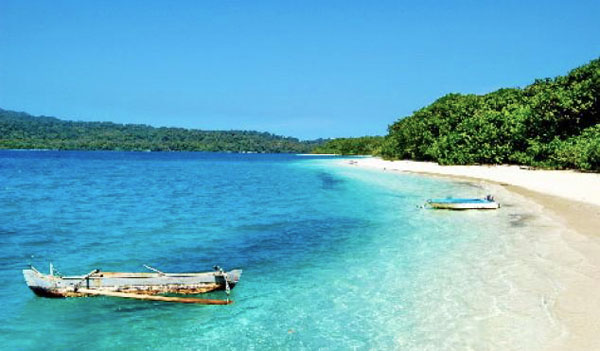 Banten Province attracts more tourists over time. Why is that? Thanks to its numerous nature tourism. Near to Ujung Kulon National Park, you have Peucang Island. It is located in Panaitan Strait. Actually, it belongs to Pandeglang Regency. For those who come from Jakarta, it takes much time to visit the island. Though, it is a worthy trip. The island is famous for its white sand and clear water. Many fishes are living there. Peucang is suitable for either families or a group tourist.
The Nuance
Once you reach Peucang Island, you can feel a solemn nuance. It feels like you are spending time on an isolated island. There is a solid pier in the shoreline, as well. That means your boat can dock in easily. From here, you can see the calm sea and soothing beach. In the horizon, there is quite a view. Green hills and dense trees become major attractions from afar. When it comes to the seashore, the sand is soft and flawless. Not to mention the atmosphere is comforting.
Exploring Peucang Island
Both local and foreign tourists often visit Peucang Island. The size of the island is about 460 hectares. It features excellent facilities such as a pier, information booth, and cottages. The main attraction on the island is the beach. It has white wide sand. The blue seawater is quite stunning! Due to this reason, you can enjoy beach walking wholeheartedly. In fact, you don't even need to wear any footwear. The sand is quite soft, so it won't harm you at all.
The next activity is water sports. The calm seawater gives you an opportunity to try numerous things like diving, snorkeling, and swimming. For those who love an extreme activity, you can reach Karang Copong. It is a perfect location for trekking. Next, there is a nearby attraction called Cidaon Pasture. It is the place for witnessing numerous animals such as boars, bulls, deer, and much more. In fact, there is an old lighthouse nearby. Tourists are allowed to climb on it.
Another attraction in Peucang Island is the group of wild monkeys. They are funny and cute. However, they are also naughty. Some of them may steal stuff. Therefore, make sure to protect your belonging. In some cases, these monkeys enter hotel rooms and make a mess. As for precaution, you should never leave your door opened. If you are brave enough, you can take some pictures with them. It is better to carry some snacks as you need to feed those monkeys.
Nearby Attractions

Cidaon
Pasir Putih Beach
Karang Kopong
Tanjung Layar
How to Get There
The question is how to get to Peucang Island. If you come from Jakarta, your destination is Pandeglang Regency. Once you reach the location, you should head to Taman Jaya Village. From there, you need to rent a boat to Peucang. It takes no much time, actually. The trip features beautiful sea and breezy wind. This won't bore you. On the other hand, it gives you an amazing feeling. Once you reach your last destination, you are free to explore it.
Where to Stay