Cibiuk Hot Spring in Pandeglang Regency, Banten
---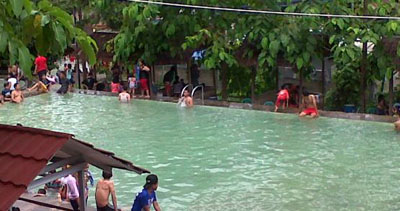 Lots of people are into nature tourism. Are you one of them? In this case, a vacation in Pandeglang Regency is a good option. You can find many options of vacation there. One of them is Cibiuk Hot Spring. It becomes a comfortable destination for relaxation. In fact, many families visit it during holidays. It is a good checkpoint prior to visiting nearby attractions in Pandeglang Regency such as the square and waterpark. Also, many tourists come to the location for eradicating their tiredness and several diseases. No wonder, the hot spring has some healing ability.
The Nuance
In terms of appearance, the hot spring doesn't feature unique characteristics. That means you should not expect anything unusual there. Somehow, the locals believe it gives better health benefits. Due to this reason, more people come to this place for enjoying natural healing phenomenon. Some parts of it are covered by small plants. Somehow, these create a fresh atmosphere. With all these features, tourists can enjoy and relax either alone or with friends. In some way, the location is also suitable for a family outing.
Exploring Cibiuk Hot Spring
What can people do in Cibiuk Hot Spring? Well, it can be as simple as bathing. There are numerous health benefits of getting into the warm water. For example, your body will be replenished. Not to mention the water can eradicate bad particles in your skin. It broadens the skin pores and removes dirt thoroughly. With cleaner and healthier skin, you may retain your confidence and charm. It makes you fresher and more comfortable. One thing, you should pay attention to the duration. Don't spend too much time in the water!
Once you have enjoyed bathing, it is time to visit nearby settlement. Somehow, culinary in Pandeglang is worth a try. There are different types of good foods to try. For instance, there is melinjo chip. It can be either a snack or a side dish! Not to mention it comes in different flavors. That means you can get several tastes such as spicy, savory, sweet, and much more. Here is the thing. The local government has chosen it as the signature food in Pandeglang. If you want to try other local foods, there are Opak, Apem, and Balok.
Another thing to do in Cibiuk Hot Spring is to visit nearby attractions. The nearest one is Pandeglang Square. It is better to come in the afternoon, though. You can find many people at that time. For those who come with kids, there is a waterpark as well. Are you interested?
Nearby Attractions
Pandeglang Square
CAS Waterpark Cikole
How to Get There
Your main destination is Pandeglang Regency. From Jakarta, the trip takes about 2 ½ hours and the distance is approximately 117 km. The fastest route to Pandeglang is through Pantura Street. Next, you need to use Tangerang-Merak Freeway. Once you reach the exit, you can simply head to hot spring. It is better to come with a local guide. At least, he can bring you to the location in an efficient manner.
Where to Stay
Pandeglang Raya Hotel
Paranti Hotel
Sejahtera Hotel
Riz Hotel