Hanging Out in Pandeglang Square, Banten Province
---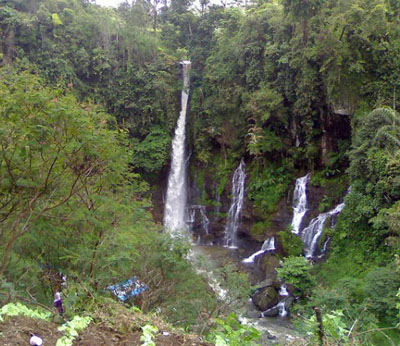 It is time to find new places for a vacation. If you are visiting Banten Province, you must visit Pandeglang Regency. Why is that? There is a great location for hanging out. The name is Pandeglang Square. It is actually a city park and it is located in Labuan Street. Like other city squares, most of the visitors come there for relaxing and meet new people. Some visitors also use the location for jogging and casual sports. No wonder, it is quite crowded either in the morning or evening.
The Nuance
In terms of size, it is quite vast. There are symmetrical and spherical landmarks in both sides of the square. In one of the corners of Pandeglang Square, you can find a rhinoceros statue. It becomes the best spot for taking pictures and sightseeing. The thing is you aren't allowed to ride it. Next, there is a flag pole. That means people often use the square to conduct a flag ceremony. In the morning and afternoon, you can see many people performing sports in this area.
Exploring Pandeglang Square
Pandeglang Square has become a place for gathering. The locals and outsiders have different reasons for visiting it. Apart from tourists, some sellers are also swarming the square. The thing is they want to sell their products to visitors. These include foods, drinks, clothes, and much more. Due to this reason, it becomes easier to get some snacks while enjoying good times in the square. You don't even need to carry bottled water when visiting the square. You can simply buy it from the sellers. 
During the fasting month, you may expect more visitors in the afternoon. These people come to Pandeglang Square to wait the right time to break the fast. This activity is called "ngabuburit". Most of the visitors are teenagers and kids. Somehow, some old people also would like to spend good times in the square. In the evening, the city lights make the square stunning and mesmerizing. No wonder, some couples come there for a romantic moment. Some parts of the square are good for relaxing, after all.
Another fun activity is finding new friends. As mentioned before, Pandeglang Square is popular among both locals and outsiders. That means you have an opportunity to make new friends and meet new people. Many singles have found their lover there, in fact. For foreigners, learning how to speak the Indonesian Language can be a big help. It gives you better chances to talk to the locals. As an alternative, you can hire a local guide. However, you need some money to pay him.
Nearby Attractions
Cikole Water Park
Atlit Swimming Pool
How to Get There
A trip to Pandeglang Regency takes about 3 hours from Jakarta and the distance is 109 km. The best route to reach the location is Pantura Street and Tangerang-Merak Freeway. With a private car, your trip is definitely faster. As for accommodations, there are some hotels in Pandeglang.  Not to mention each of them offers distinct prices and facilities.
Where to Stay
Paranti Hotel
Pandeglang Raya Hotel
Riz Hotel