Cidaon Savanna in Pandeglang Regency, Banten
---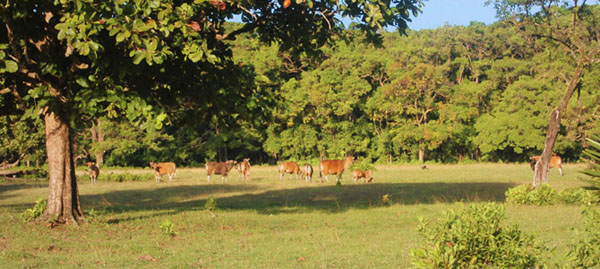 Ujung Kulon National Park is a famous tourist spot in Banten Province. It is also the home of a soothing area called Cidaon Savanna. As the name suggests, it is an open grassy land. It is the home of several plants and animals, too. The best attraction is the wild bulls. They often come to the location for eating. Even though tourists are allowed to witness such wilderness, it is not recommended to get too close to those bulls. They are wild, after all.
The Nuance
Cidaon Savanna is not quite big. It is surrounded by several big trees. Those plants become a natural border of the grassland. In the midst of the savanna, you can find some small trees. One of them has fallen, in fact. If you come at the right time, some bulls gather and enjoy their feast there. This is an opportunity to capture some pictures of them. Most of them are brown, but some come in black color too. When it comes to the atmosphere, it is quite chilling.
Exploring Cidaon Savanna
The best attraction in Cidaon Savanna is the wild bulls. The thing is you should come at the right time to be able to witness those majestic creatures. According to the locals, you should come to the location at noon. It is because they may come to the field and eat grasses. As an alternative, you can come either in the morning or afternoon. Once you get to the location, you can feel an atmosphere similar to that of the Africa's.
Sightseeing is usually done from a post. The management provides this facility especially for visitors. If you are brave enough, you can even go down to the field and get closer to those animals. One thing, you should never get too close to them. They are quite wild, after all. Also, don't forget to carry your camera. It will be quite disappointing if you miss the chance to capture some pictures of those bulls. They will be a beautiful object for photography, for sure. 
Apart from the bulls, a trip to Cidaon Savanna becomes quite worthy for everyone. The location is on the tip of Ujung Kulon National Park. Also, it is situated near to Peucang Island. That means you can visit the island once you have explored the savanna. Apart from the bulls, there are other unique animals like wild chickens and peacocks. Before exploring the savanna, you must have obtained permission from the guard first! It is a primary requirement.
Nearby Attractions
Panaitan Island
Peucang Island
Ujung Kulon National Park
How to Get There
Cidaon Savanna is located in Pandeglang Regency. To be exact, it is the part of Ujung Kulon National Park. That means you must head to such location right away from your place. For those who come from Jakarta, the trip takes a little bit long. It costs about 6-7 hours and the distance is 224 km. The route is Pantura Street and Tangerang-Merak Freeway. For a faster trip, you need a better vehicle. A private or rented car is indeed recommended.
Where to Stay
Red House Villa
Umang Resort