Cikacang Waterfall near to Ujung Kulon National Park, Banten
---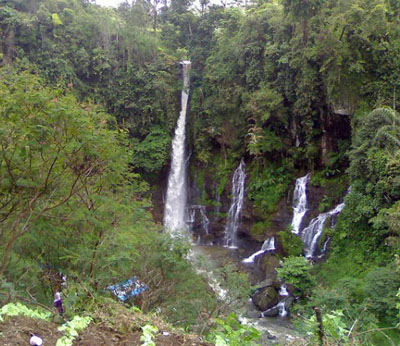 When it is about Banten Province, many travelers refer to Ujung Kulon National Park. Well, they are not wrong. The thing is you can find other attractions. Near to such famous park, there is Cikacang Waterfall. The locals call it Curug Cikacang. It resides near to Legon Resort. It always has visitors despite its unpopular status. Not to mention it becomes an alternative tourist spot for those who visit Honje Mountain. Today, many tourists come to the location for witnessing a local animal called Javanese Owa.
The Nuance
In terms of beauty, the waterfall is indeed satisfying. You can find numerous types of plants. In fact, some bushes cover the hill. The water drops flawlessly, so it becomes a great sight there. When it comes to the landscape, it features numerous stones. They come in different shape, in fact. These rocks surround a small river below the fall. What is about the water? It is fresh and clear. That means you are possible to swim and play water in it.
Exploring Cikacang Waterfall
The first thing to do in Curug Cikacang is to learn the history. You can talk to the locals regarding the name of the waterfall. According to them, the curug got its name from after "kacang". It means peanut in English. What was the reason? It was because the waterfall has the shape like a peanut. The water splits perfectly and beautifully just like a peanut. It is definitely stunning. Mostly, the people come to enjoy the beauty of this fall. 
The next activity to do is to jump off the waterfall. Have no worries. Some parts of the water are safe for jumping, so you can really enjoy it. Bathing is also a good idea. The water is quite refreshing. It is also suitable for relaxation. Due to the freshness of the water, you can relieve your burdens. Somehow, it helps you eradicate stresses. Once you enjoy good times in the curug, it is time to eat your foods. Make sure to choose the best spots, though.
What is next? Since the waterfall is located near to many tourist spots, you should explore nearby locations. In this case, you should prepare some budgets. You need them for transportation and other amenities. The most expensive cost is for renting a boat to Peucang Island. In fact, the price gets higher during holidays. If you want cheaper prices, it is better to come in working days. In addition, you must learn to bargain.
Nearby Attractions
Ujung Kulon National Park
Peucang Island
Honje Mountain
How to Get There
The question is how to reach Curug Cikacang. For those who come from Jakarta, the best route is in Pantura Street. Next, you should head to Tangerang-Merak Freeway. Once you reach Ujung Kulon National Park, you need to walk about 2-3 hours. It is definitely a tiring trip. Have no worries. It is a rewarding effort. During the trip, you may enjoy natural scenery such as paddy fields, forests, etc. No to mention the atmosphere is great! The whole trip from Jakarta takes about 5-6 hours. Enjoy it!
Where to Stay