A Thrilling Adventure in Cigenter River, Banten Province
---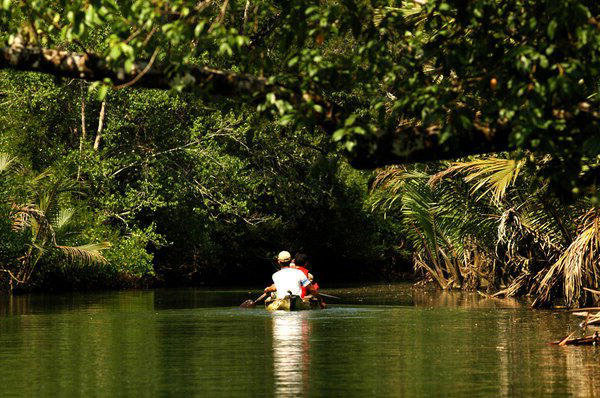 Do you love an adventure? Well, there is a stimulating river in Banten Province. The name is Cigenter. The locals recognize it as a little Amazon. No wonder, it features wild animals along the river. That means you may expect some crocodiles, as well. No to mention you may encounter several snakes on the branches. This river is located in Handeleum Island. It is near to Ujung Kulon Peninsula. It is a suitable place for an extreme adventure. One thing, you should not bring your kids there.
The Nuance
Apart from wild creatures, the river also features think plants. Plus, you may see mangroves as well. In some occasions, you can see phytons and deer. Cigenter River has a calm current. Most of the time, the color of the water is green. In both sides of the river, you may see mangroves. If you are lucky, some monkeys are seen nearby. Tourists are allowed to explore the river using a boat. One thing, there must be a professional guide coming with you. It is a dangerous activity, after all.
Exploring Cigenter River
It is a no brainer. The most favorite activity is definitely a river exploration. Though, tourists should have talked to the keeper or ranger in Handeleum Island. Once you have received their permission, you are ready to go. Cigenter River has a calm current. That means your boat (jukung) can smoothly explore it. The only obstacles are fallen branches. The boat can accommodate about 5 people. It includes the guide. In the estuary, the color of the water is clear. Though, it gets greener later.
The depth of the river is about 6 meter. It is surrounded by thick plants and trees, especially mangroves. Don't row the boat in a careless manner! That means you should do it slowly. After all, you can take advantage of the river sea current. Another reason is to avoid the wild creatures living in the river. A careless rowing may attract their attention. If you carry a camera, you have the chance to take some pictures. It will be lucky if you can capture wild monkeys nearby.
In the river's edge, you can find a beautiful waterfall. It is located about 2 km from the estuary. That means it becomes your reward in such river exploration. There is an issue, though. Some tree trunks often fall into the river. That means they become troublesome obstacles. You won't be able to continue your adventure. As the result, you can't reach the waterfall.
Nearby Attractions

Ujung Kulon National Park
Peucang Island
Badul Island
How to Get There
Actually, Cigenter River belongs to Ujung Kulon National Park. Though, it is located in Handeleum Island. Once you reach Pandeglang, you need to cross the sea using a boat. The departing point is in Paniis Village. The rent fee is affordable during working days. On the other hand, it increases during holidays. For a cheaper price, you should come in a group. That means each of you needs to chip in for a ride to the island.
Where to Stay