Cibunar Savanna in Ujung Kulon National Park, Banten Province
---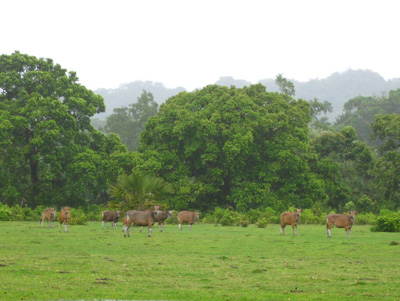 A vacation in Banten Province is mostly about nature. The most popular tourist attraction is Ujung Kulon National Park. It is situated in the westernmost of the region. Tourists recognize it as the home of various natural attractions. One of them is Cibunar Savanna. It is situated near to Cidaon Savanna, actually. Both of them become a perfect location to witness wild animals. Still, Cibunar is a favorite tourist destination for hikers. Thanks to the beautiful landscape and numerous types of plants.
The Nuance
Once you reach the location, you can find several structures. These are the home of the keepers. That means you can ask information regarding the route and spots for hiking. When it comes to the features, you may different types of trees and plants. Some of them are the food sources for the rhinoceros. So, what about hiking? The start point is in Cidaon. From there, you can explore the landscape to Cibunar. There is a forest near to the beach, as well.
Exploring Cibunar Savanna
Here is the question. What is the best feature in Cibunar Savanna? It is the wild creature, especially the bulls. They often come to the location for eating. The thing is you should not get too close to them. They are wild animals, so they can easily harm you. In a nutshell, sightseeing is the best activity to do in Cibunar. An item like field glasses is definitely helpful. You are able to witness those animals from afar comfortably. For those with kids, the savanna becomes a field for a natural study.
Apart from sightseeing, another fun activity to do is trekking. Cibunar Savanna is famous for its landscape. It is suitable for adventurers and explorers. Along the way, there is a chance to meet unique animals like peacocks! Thus, you should carry a camera and take some pictures of such beautiful birds. As for another tip, it is better to wear proper footwear. It is because you may encounter some bushes and wild plants. Make sure not to get hurt due to the poor quality of footwear or gears.
According to the locals, the best time to visit Cibunar Savanna is in the morning. At least, you should have been there at 7 am. The atmosphere is nice and there is an opportunity to witness the sunrise. As an alternative, you can come in the afternoon. Make sure not to miss the sunset. Cibunar becomes quite beautiful with the combination of animals, plants, and the sun views. Overall, it is a suitable tourist spot for everyone. Even your kids would love it.
Nearby Attractions
Cidaon Savanna
Panaitan Island
Ujung Kulon National Park
How to Get There
A trip to Ujung Kulon National Park takes much time if you come from Jakarta. The distance is 224 km, so you may spend about 6 hours. When it comes to the route, you can take Pantura Street. Hotels are rare in this region, so you must cleverly choose an accommodation in other locations. If necessary, you need to cross to Peucang Island.
Where to Stay
Peucang Island Resort
Umang Resort