A Grandiose Honje Mountain in Tamanjaya Village, Banten Province
---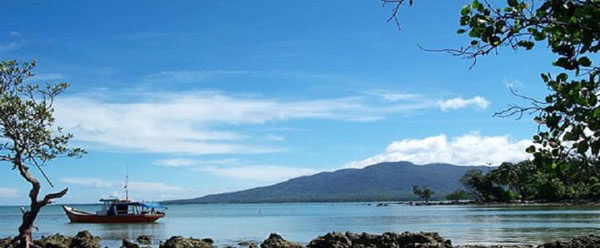 Banten Province has many famous tourist attractions. One of them is situated in the westernmost of Java Island. It is called Ujung Kulon National Park. Near to this renowned park, there is a majestic mountain called Honje. This mountain is reachable from different locations, actually. Not to mention it is surrounded by 19 villages. Still, there is a prime village, which becomes the main gate to reach the mountain. The name is Tamanjaya Village. That means tourists need to head to such settlement prior to exploring the mountain.
The Nuance
Tourists can take advantage of Honje Mountain either from a close or far distance. Mostly, these people are photographers. They want to capture beautiful pictures and backgrounds near to the mountain. From afar, there is a sea and trees. Sometimes, local boats pass by too. In terms of size, the mountain is not quite big. However, it is considered wide. For a simpler and meaningful trip, it is better to hire a tour guide. He may help you get around the mountain efficiently.
Exploring Honje Mountain
As mentioned earlier, Honje isn't quite tall. The height is approximately 700 meters. Despite this disappointing fact, it offers numerous nature attractions such as wild plants, animals, and rivers. There is also Cigenter River. It is the best medium to enjoy canoeing. Still, most of the tourists come to the mountain for trekking. The path is suitable both for beginners and experts. That means everyone is allowed to explore the mountain freely. If you aren't quite confidence, you can hire a local guide to explore Honje Mountain.
The best location to begin trekking is in Paniis Village. It is located near to the shoreline. The village features refreshing atmosphere and calming nature. Once you get to this settlement, you need to talk to the locals. Some villagers may offer a tour service. You can hire one or two teenagers to help you explore Honje Mountain. Also, there is a porter. He helps you carry equipment and foods to reach the checkpoint. Overall, you need to carry some money to pay their services.
Here is the thing. You should start your trekking in the morning. The first route features numerous farms and rustic panorama. Not to mention you can feel a refreshing atmosphere. Everything is going to be comfortable. Apart from trekking, you can also conduct photography. There are too many objects to capture, in fact. Thus, you should carry your camera as primary equipment. Since there are no facilities and stores, you must have prepared some snacks and drinks. These are quite useful during trekking, for sure.
Nearby Attractions
Peucang Island
Cidaon Savanna
Ujung Kulon National Park
How to Get There
From Jakarta, it takes up to 6 hours to reach Ujung Kulon National Park. The distance is roughly 224 km. That means it is going to be a long trip. As for the tip, it is better to ride a private car. It helps you avoid several stops like what a bus may do. When it comes to the route, you can simply take Pantura Street from Jakarta. Your checkpoint is Tamanjaya Village, actually. From there, you can head to Paniis Settlement and start the trekking.
Where to Stay