Visiting Karang Mountain in Pandeglang Regency, Banten
---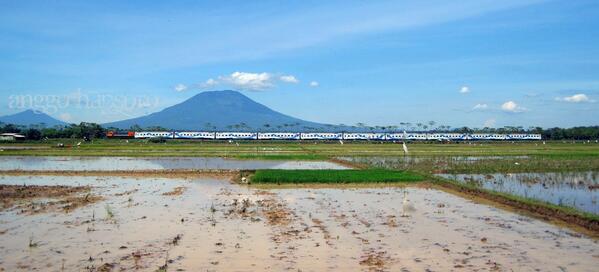 A vacation in a mountain sounds challenging for many. Though, it gives fun and relaxation too. For example, there is Karang Mountain in Banten Province. The location is in Pandeglang Regency. Even though it isn't active right now, the mountain has a potential in exploding! The height of the mountain is 1,778 m. The peak is called Mount Sumur Tujuh. Today, it is the list of the best tourist spots in Banten. It is even recognized as the tallest mountain in such province. Apart from hiking, it is a popular destination for pilgrimage or religious tourism.
The Nuance
Karang Mountain is located near to a settlement. In fact, the villagers can witness such enormous mountain from afar plainly. From afar, the peak is covered by clouds. You can only see the body part, which is green and gigantic. Before reaching the mountain, it is better to drop by in the village. Such settlement gives a comfortable nuance. Somehow, it gives you peace as well. Not to mention the villagers are quite welcoming. Their house even has applied a modern architecture, actually. That means they have developed a modern way of living.
Exploring Karang Mountain
Many travelers have been discussing about Karang Mountain. Most of them come to the mountain for trekking. It is because the mountain features a long track and challenging cliffs. For those who love extreme activities, you can simply come to mountain. The thing is you must come with friends. A local guide is a better choice as he can show the right route to reach the top of the mountain
Nearby Attractions
Batu Quran
Cikoromoy Bathing Place
Cikole Park
Cisolong Hotspring
How to Get There
As mentioned earlier, Karang Mountain is located in Pandeglang Regency. For those who come from Jakarta, the best route is Pantura Street. Next, you can use Tangerang-Merak Freeway. The whole trip takes about 3 hours and the distance is approximately 112 km. It is not a long trip, so you can enjoy the scenery along the way. If necessary, you should bring snacks and drinks. These refreshments are indeed helpful during the trip.
Where to Stay