An Adventure to Ujung Kulon National Park, Banten
---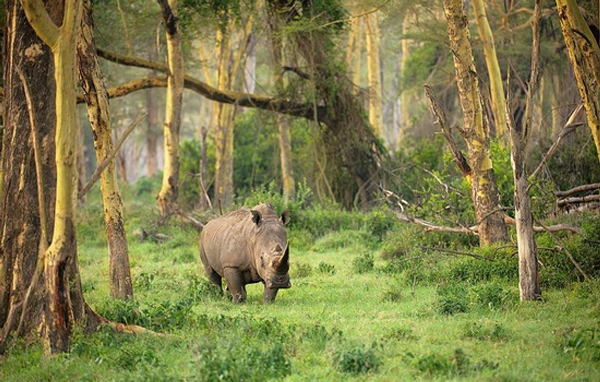 Have you heard people talking about Ujung Kulon National Park? Well, it is a famous tourist spot in Banten Province. The location is in Ujung Jaya Village. It belongs to Sumur District, actually. As the name suggests, it is a natural conservation. The size is more than 120 hectares and it holds numerous types of flora and fauna. Even UNESCO has approved it as one of the world's heritages. Today, many tourists visit it to witness wild nature, especially rhinoceros! It becomes everyone's favorite location for a vacation. 
The Nuance
Once you reach the location, you can see a dense forest. There is a gate, as well. It looks old and small. There is a written nameplate, so you can notice it easily. Actually, Ujung Kulon National Park is surrounded by big trees and numerous types of plants. It feels like in the jungle. Apart from sightseeing, you are able to enjoy trekking. There are many locations to explore, too. If you come with kids, you can introduce wilderness to them. Thus, the park becomes a recommended place for a family vacation.
Exploring Ujung Kulon National Park
You can visit numerous spots there. Some of the best areas are coastal forests, mangroves, savannas, and tropical forests. Each of them holds different types of animal. Several animals are considered endangered, in fact. These include Java Rhino, Owa, Forest Hound, and Surili. For those who want to witness rhinoceros, you must head to Semenajung. It is a perfect location to find such exotic creatures. Near to it, you can find several mammals such as wild cats, leopards, panthers, etc. Even sloths are seen there. 
Apart from animals, you can also witness many types of plants. Ujung Kulon National Park features numerous formations of forests, after all. Many tourists are attracted to some rare species of flora. These grow well in that location. They are Cleidion spiciflorum, Knema, Heritiera, and Batryohora. For those who love plants, those species are indeed interesting. The others types of plants are Salacca, dendrobium, Areca, and much more. It seems the variety is limitless! You can introduce them all to your kids.
After exploring different areas in Ujung Kulon National Park, you must never miss Peucang Island. In fact, becomes one of the best attractions there. Tourists are impressed by its white sand and stunning sea. If you love water sports, you should drop by in Peucang. Make sure to enjoy snorkeling, swimming, and wildlife viewing. In a nutshell, a vacation in Ujung Kulon never disappoints you. It is the best idea to explore and witness wilderness.
Nearby Attractions
Peucang Island
Panaitan Island
Umang Island
How to Get There
A journey to Ujung Kulon takes about 10 hours from Jakarta. Your primary destination is in Sumur Village. The location is the westernmost of Pandeglang Regency. If you use a good vehicle, it takes only 8 hours from Jakarta. If you take a bus, it can take longer due to high traffic. On the other hand, a rented car brings you to the destination faster. Not to mention it is more comfortable.
Where to Stay

Latest News
Sawarna Beach Sawarna beach, that located in Lebak, Banten province is now becomes more popular to be visited. In a decade, this beach that located along the forest beach in line with Pelabuhan Ratu, raise as one of most-visited beach and entitled as a new pearl in Southern Banten. To reach Sawarna, the travelers from Jakarta can be start the journey from Tangerang, Tigaraksa and Malimping, Bayah. While, from Bandung, we can start from Pelabuhan Ratu, then down the coast to the west. Unfortunately, we have to ask to the…
---
Serang Serang is the capital of Banten Province and the administrative center of Serang Regency. The administrative center of the regency and the capital of the province is the independent municipality of Serang (Kota Serang). Serang is about 10 km from Old Banten, the province's former capital. Merak, a major port and ferry terminal, is located just west of the regency. Serang is bounded by Java Sea to the north, Tangerang Regency to the east, Lebak Regency and Pandeglang Regency to the south, and Cilegon to the west. Old Banten…
---
Pandeglang Pandeglang is a regency in Banten province with the capital of the same city. This rgency is bordered to the north of Serang, Lebak District in the East, and the Indonesian Ocean in the west and south. Its area also includes the island of Panaitan to the west, separated by the Strait of Panaitan, and number of small islands in the Indian Ocean, including the Deli Island and Tinjil Island. Ujung Kulon Peninsula is the most western tip in Java island, where there are wildlife reserves and there is…
---
Banten Banten is one of Indonesia Provinces that stand on the tip of Java Island. Formerly was a part of West Java Province, but on 2000 was separated and become a single province. The administrative city is located on Serang city. Banten at early begin was a port city with the busiest activity and prosperous people. Also, Banten was the most important port from Sunda Kingdom. When it was become a part of Sultanate of Banten, Banten became the biggest port city on South East Asia as big as Malaka…
---